If your wedding is taking place in 2016, it's a good idea to think about your wedding flower needs this early: your bouquet, your maid of honour and bridesmaids' bouquets, boutonnieres for the gentlemen, and of course decorative flower arrangements for the church and reception.
We've scoured the web for the wedding trends of 2016, to help you think about what kinds of flowers and arrangements you want for your special day.
Wedding Flower Trends In Colour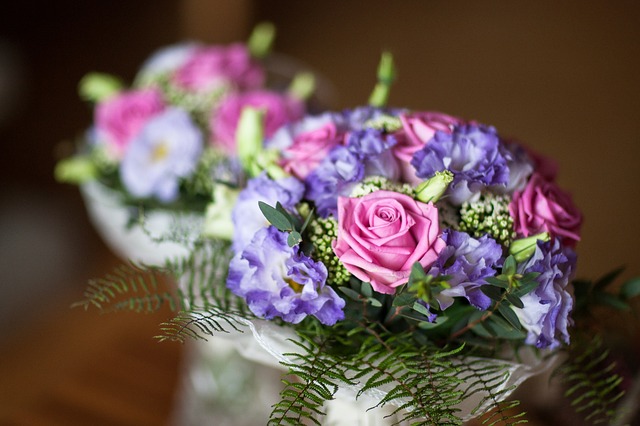 Weddings are getting more colourful — literally! Pastels and muted tones are giving way to more colour. Stonehouseweddings.com is seeing a trend in more vibrant colours, including more blues, which should make grooms happy.
Metallic colours are also invading the wedding scene. If you want a touch of shimmer on your bouquet or floral arrangements, talk to your wedding florist. They can add metallic touches to your wedding flowers and can go from very subtle to bold.
Back to Nature
Formal floral arrangements are giving way to "wilder," more natural and rustic designs. More and more wedding couples want to bring the outside in, and the most logical way is to make wedding flowers look more like they were freshly picked from the garden.
Natural textures — like the roughness of bark or the velvety softness of petals — can also be incorporated in your wedding floral arrangements.
Bigger Is Better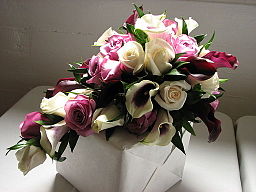 We're also seeing a trend towards big, cascading bridal bouquets and floral centrepieces. You have to agree, they're bold and stunning!
On the other hand, simpler table arrangements, with organic and unpretentious centrepieces, are also gaining popularity.
Flowers on Wedding Gowns
Flowers are becoming more prominent on wedding gowns! The wedding fashion world is full of talk about 3D floral embellishments and floral prints on wedding gowns:
If your wedding gown showcases flowers like this, keep in mind that you want your bouquet to complement, not clash, with your gown. Choose a wedding bouquet design that echoes the flowers on your wedding gown, or keep the bouquet understated.
These are some of the upcoming trends in wedding flowers for 2016. We hope reading this has inspired you with the designs for your own wedding flowers. Keep in mind, though, that the most important element is you. It's your special day, so you get to choose the flowers and floral arrangements that best reflect your personality and taste, no matter what's popular.
Need help to visualize the perfect floral arrangements for your wedding? Call us at (519) 326-9322 and one of our talented floral designers will work with you so will have the best flowers for your dream wedding!